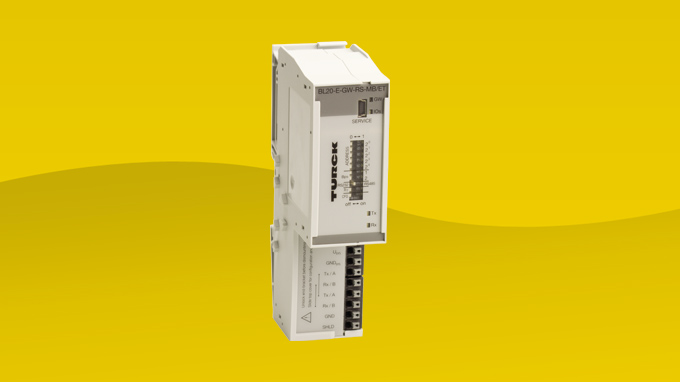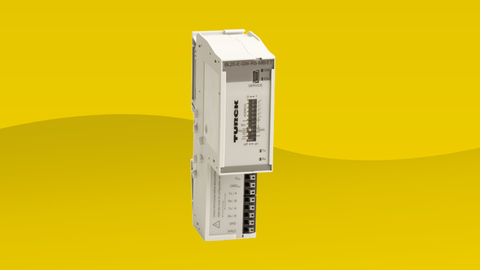 TURCK Offers MOdbus Gateway Providing Seamless Integration Between Legacy Products and Newer Systems
Minneapolis, MN - May 17, 2013
TURCK announces the BL20 Modbus RTU serial gateway designed to integrate legacy products to more updated systems. The gateway supports both Modbus RTU and the ASCII protocol and is configurable as either RS485 or RS232 for the physical interface.
Push-in terminals for connecting the fieldbus and power supply cables quickly and directly eliminate the need for any time consuming preparation of the typical 9-pin SUB-D connectors. Baud rate, address assignment, bus termination, and RS232/RS485 can be set easily on the gateway using DIP switches. Other functions such as ASCII mode and other baud rates can be configured using FDT/DTM with Pactware. A Mini-USB port can be used as a service interface.
With an extended temperature range from -25° to +60° C, the gateway can also be used in outdoor control cabinets. The electronics are conformally coated to provide protection from condensation for applications that are exposed to humidity and moisture. Up to 32 I/O modules can be connected to the IP20 gateways, and the BL modules can also be used for the connecting RFID read/write heads. The modular concept enables users to deploy the same electronic modules in different field bus systems.
Designed to provide dependable communication capabilities, the BL20 modular I/O system elevates a variety of I/O signals to common serial Modbus networks. The BL20 is ideal for in-cabinet, modular I/O applications where a variety of I/O types are required such as, digital inputs, digital outputs, analog I/O, and innovative technologies like RFID.
"Modbus RTU is reliable and can be used almost anywhere. It's a gateway that can be used to work with legacy products and migrate them to work with more recent technologies, such as RFID. The addition of Modbus RTU exemplifies that Turck will work with all network protocols." said Matt Boudjouk, Network Product Manager.
TURCK is an industry leader providing superior quality sensing, connectivity and network products to help manufacturers improve their automated processes. For other TURCK product or technical information, contact:
1-800-544-7769 º www.turck.us º usa@turck.com